BY HOPE ROSE KELLY
via www.stagemanagers.org
Reaching out to the Stage Management Association of the UK (UK SMA), I inquired if they had any observation opportunities from their members. Andy Rowley (Executive Director) kindly put a call out and Sharon Hobden, who is currently the DSM for Company, sent me an invite. This production has been noted for the gender swapping of the lead character Bobby and some other roles plus the storyline has been updated thereby bringing it into the 21stcentury with a natural ease that had I not known its origins, I would have thought it was a new musical written for today. Patti LuPone stars in the role originated by Elaine Strich. With a bit of tongue in cheek (given her history of admonishing patrons about cell phone use at the theatre), the recorded curtain speech is her voice firmly but good naturedly telling the audience to switch off their mobiles.
I checked in at the stage door of the Gielgud Theatre where Sharon came out to meet me. Sharon is warm and friendly with an air of trust and calmness emanating about her. She took me through the backstage area which is small and can barely hold the several moving box units (5 plus 1 in the trap) whose borders light up by way of battery and are controlled wirelessly. Two of the boxes are wireless the others have cables. The largest unit is automated and lives the farthest upstage rolling downstage when required. This unit changes from being a living room to a kitchen to a bedroom and finally to a night club. The other units are smaller and live either offstage right or left and are operated by the crew. A bit of Tetris has to be played when a couple of these units move off the same direction and because the backstage wings are just wide enough to hold one unit, the first one off has to move upstage after it is out of sight in order for the other to get offstage. And while these units live offstage, crew and cast have to move through them to get anywhere. Props are placed wherever room can be found. Costume quick change stations are also in improvised areas – one being in a disused box seat at stall level but out of audience sightline.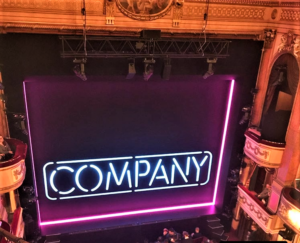 Sharon led me out of the backstage area after noting that the safety curtain had been brought in and out once the house was open so that it was witnessed as working by whoever in the general public happened to be taking their seats. It's a law that this must be done which answered why I would sometimes see the safety curtain randomly come in and out during the half hour leading up to the start of show. We continued up to the calling station – out of backstage left and into the audience area, up some stairs and into a box house right which is hidden from the audience by black curtains. There is a view of the stage from above but most of the show is watched through monitors. There are the usual shots of the front of stage in colour, infrared, video of the musical director, shot of looking stage left from stage right, shot of the trap area, and a monitor feed that allows Sharon to pan in/out from the front of the stage as well as have a view of the audience if needed. Also there are the usual coms station and cue lights set up.
Company rehearsed 6 weeks then had 1.5 weeks of tech before playing to the public – the shortest tech period Sharon has experienced since working in regional rep theatre. To those of us who work regionally, 1.5 weeks sounds like a very long time but West End products – like Broadway – generally have longer. During the course of tech, Sharon could rely on the SM and ASMs to troubleshoot the scene shifts. In practice, the SM who leads the backstage will call the holds to cast and crew which allows Sharon/the DSM, who is in the house, to concentrate on other things with the director and designers. In the meantime, the SM will get everything ready to go again once it is known where they will continue from and let the DSM know once they are ready. In addition, Sharon will discuss any changes with Automation, Flys, Sound and Lights and liaise with the SM as to the physical changes that have to be made onstage before they being a sequence again. Normally the SM and DSM have mapped out the scene changes but on this occasion, the Designer (Bunny Christie) had produced a very detailed storyboard and the Production Manager assisted with the process which was not unwelcome. Sharon noted that everyone on the team is lovely to work with – they have an easy going camaraderie which echoes over the coms even with the simple "standing by" confirmations.
Originally, the SM team* (see end of article for job titles and descriptions) consisted of the CM, DSM, SM, and 2 ASMs then they found the need to have a third ASM who came on board once they had opened. The other members of the stage crew apart from wardrobe consist of 3 crew, 1 stage electrician, 1 automation crew, and 2 flies along with 2 spot ops, the lights, and sound. All of these members are on coms. Not everyone hears each other but Sharon (and I) hear them all. Some of the scene changes require all hands on deck which means one of the flymen even step in if nothing needs to be flown in. There is a backstage union called BECTU** which represents all backstage staff apart from Stage Management, however there is no closed shop in the UK so as with Equity, you do not need to be a member of a union to work. So as a result, there are no territorial boundaries to worry about crossing and protecting in the backstage arena amongst Stage Management and the rest of the crew. The boundaries are more blurred or less strict, if you will.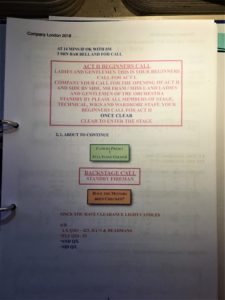 The calling of Company has sections of intense cues and then lulls of quiet especially during the dialogue scenes. Everyone but Lights gets standbys as including Lights would cause more chatter on the coms than necessary. Lights are stood by at the top of each Act for the whole Act. Looking at Sharon's beautifully typed up calling book (each act is in a separate binder – and there is the separate blocking script), I ooo'ed and aahh'ed over the well placed text boxes and color coding. On the opposite of each script page is a list of the cues (LX, SND, Fly, etc) that are called with a description of what each cue does. Sharon does this for all her shows and it's a process that is streamlined now that she's used to what needs to be done.
At this performance, there was a newly trained person operating the lights and though the show has many bump cues often in a matter of seconds, Sharon had a calm confidence that it would go smoothly and it did. Sharon loves to DSM and it's rare for those in stage management to stay in the position as long as she has. The ladder progression tends to lead up to CSM/CM then over to Production Management.  But I could understand why Sharon enjoys her job. Hearing her call the show was an art form. My favorite moment of the calling was listening to Sharon keep count of the music over headset for the crew during a lengthy number where the crew was constantly moving around backstage prepping and activating scene shifts. I found the choreography of this (viewed by monitor) more fascinating than what was happening in front of the audience.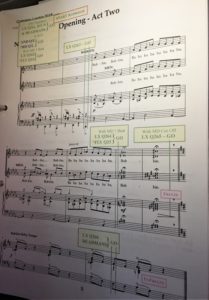 The opening of Act 2 is a 9.5 minute number that just never stopped. Sharon commented afterwards "imagine how long that took us to rehearse" to which I responded that it must be difficult to rehearse this number with the covers/understudies and she confirmed that it was. One of the cast covers Bobbie, there are five other covers who cover 2-3 parts each. They are in two scenes of the show and can easily be cut if they need to go on for their cover. But to rehearse the whole show with just the covers/understudies is nigh on impossible. They can only do chunks. And if someone does go on, they will rehearse certain challenging parts with that person and the cast prior to the performance.
Prior to every performance, there is a fight call and mandatory warm up session. So for a 7:30p curtain, cast is in at 6:15p. As I was touring backstage prior to the show, Sharon pointed out that the crew even did physical warm ups to be ready to move the units. Call times always lead up to "Beginners" (Places) call which is 5 minutes before the show is set to begin. "The cast doesn't mind waiting around past 7:30p if the house hasn't given you the all clear to begin?", I ask – Sharon replied that this is how it's done and everyone works with it. I thought about some of the actors that I work with who would be whining if they were kept waiting backstage longer than a couple minutes before the curtain speech begins. Front of house calls also happen to be the DSM's responsibility. Sharon rings the bell and announces to the audience to take their seats "the performance will begin in 3 minutes" and so on – think "Noises Off". Some venues don't need the SM to make these calls – their FOH personnel will make the calls which makes the DSM's life less complicated.
As far as the SM's duties post opening are concerned, there is very little involvement with maintaining a show from the directorial vantage. Productions tend to have an Associate Director drop by every so often to watch a show and give notes to actors. Sharon will keep an eye on that aspect just in case something morphs that affects the technical elements of the show but will always relay her actor related notes to the Associate Director to give as it's best on this production that there is one voice. The CM sometimes will be able to watch the show from the house if needed as well. In the case of Company, this person does have to lead cast members through the house for entrances to the stage from that area so they are already there to see how the audience is reacting and make note of it in their report – Sharon is not in an ideal position to make much note of audience reaction.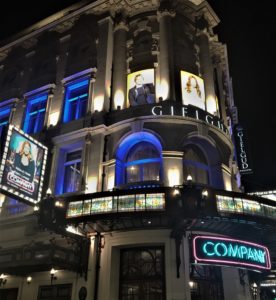 As I listened to Sharon and watched the monitors, I reflected about the mindset of stage management in the UK versus the USA not to mention the pros and cons of Equity in both countries. Sharon reinforced much of what Andy Rowley chatted about when I met with him earlier in the week (more on that meeting and those issues in another article). When the show ended, Sharon packed up her bags and we both wended our way down to the backstage area taking a moment to look at the set in work light and noting all the entourage outside Ms. LuPone's dressing room. I thanked Sharon profusely for her time and willingness to host me and watch her work then departed so that she could do her report and call an end to the long two show day that she had.
One final thing to note – and it's a rather frustrating practice towards Stage Managers in the UK: bios of Stage Managers are not listed in programs. I remarked on this when I met with Andy and he hung his head sighing because it is something you'd think productions would easily include. At the very least, names are listed under production staff but how often does your average theatre goer read that far? In any case, I asked Sharon for her bio so that I could include it with this article and here it is:
Sharon studied Stage Management and Technical Theatre at LAMDA. The early part of her career was spent gaining experience touring the UK and working in Regional Rep, but Sharon soon realised that her interests lay in becoming a career DSM. She has spent most of the last 23 years opening new large scale musicals in the West End. Her West End credits as DSM include, Jolson, Kat and the Kings, Annie, Lautrec, Secret Garden, Chitty Chitty Bang Bang, Thoroughly Modern Millie, Mary Poppins, Oliver!, Ghost and Groundhog Day. Sharon has also worked for the RSC and spent 2 years as DSM at The National Theatre.  She has been lucky enough to work on productions, which have taken her to Canada and Australia.  Sharon is currently DSM on Company at The Gielgud Theatre, London.
* Stage Management Positions in the UK (as described by the UK SMA):
Assistant Stage Manager (ASM – also Tech ASM, 'show crew') The junior grade. ASMs assist DSM's and stage managers in rehearsal, are involved in prop sourcing and making and running a show plot during the show. ASM's will normally be supervised by a more senior SM. ASM's often 'cover' the book and can run a show from the prompt desk after training.
Deputy Stage Manager (DSM – also Showcaller, live event SM, Script supervisor, Tech DSM)Typically runs the rehearsals for the director, and runs the show 'on the book' once the production is on stage, or for a live or corporate event.
Stage Manager (SM – Tech SM, C&SM, Production stage manager) Manages and runs the SM team and the production in rehearsal and on stage.  Has responsibility for efficient scheduling, bringing the show to previews and press night to the director's and producer's requirements, and for the smooth and safe running of the show during the run and on tour.
Company Stage Manager (CSM – C&SM, CSM on the book) Like the SM but also has responsibility for the safety, morale, good performance and professional behaviour of the acting company as well as stage management and other technicians. May act 'in loco for the producer or director during rehearsals, show runs and tours. CSM's often relight shows on tour and also take responsibility for the fit ups at new venues and the high visual and performance standards of the production on tour, giving notes to the company and running additional rehearsals where necessary.  On very small cast and set productions a CSM 'on the book' may work alone or with support from other technicians.
Company Manager Generally a management job working to the producer(s) or general manager(s) and responsible for all aspects of company and backstage crew employment, welfare, morale and administration on a large west end or commercial, opera, ballet, sub-rep or touring show. Duties often include many of the responsibilities of a CSM.
** BECTU stands for Broadcasting, Entertainment, Communications and Theatre Union. More info about this union can be found at bectu.org.uk
View Original Article